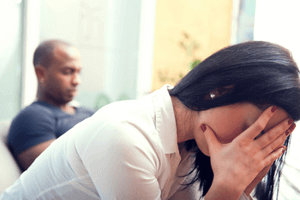 "Shutting down or withdrawing in conflict is not the same as taking a healthy, much-needed time-out; one protects relationships while the other harms them." ~LMB
Conflict, hurt feelings, upsets, and challenging conversations are vital aspects of healthy relationships, teams, and systems. The problem arises when individuals try to avoid or squash these difficult moments. One common way to prevent and squash conflict is to shut down, silence, or withdraw when things get uncomfortable.
How often do you respond to a loved one's upset by:
Silencing?
Giving them the cold shoulder for hours or days because of their critical feedback?
Shutting down and refusing to engage—even when the s/he is calm and respectful in speaking?
In work settings, do you:
Get annoyed when your boss or co-worker give you feedback?
Silently stew and then go to others to complain about the feedback given?
Feel attacked when given feedback, even when the information is shared respectfully?
Collapsing in the face of difficult feedback or someone being upset with you is an internal problem with you—not their message. The other person's feedback—be they a boss, lover, or friend—is a gift from them to you. Their feedback signifies that you are important enough to attempt to work through issues. Your tendency to shut down, be offended or passive-aggressively give them the cold shoulder is a sign of disrespect to them and insecurity and fear within you.
Take that in for a moment (shutting down is about your fear and insecurity—not their message).
And—
Hold yourself in warm regard (you are enough, and you matter despite your difficulty taking in feedback).
Taking in difficult feedback with accountability, courage, and compassion is one of the most challenging aspects of adulting; it is also one of the most important. Without adulting, there is no way to get to extraordinary relationships, kickass jobs, and life-nurturing friendships. And, like it or not, being able to stay in a challenging conversation respectfully and entirely is your first step.
The good news is—you're more capable than you realize in this department. You can do it; There is a way. The bad news is that your pattern of shutting down will not go away by itself.
Challenge: If you're ready to enter the adulting arena when receiving feedback, keep your eyes open for an excellent opportunity to get started on this journey. This one shift truly is life-changing!