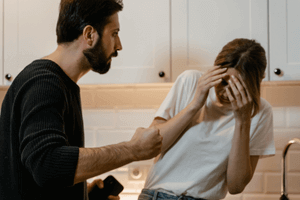 "Hurting someone to teach them a lesson for hurting you, creates an endless loop of hurt." ~LMB
I remember hearing a mother speaking to another mother about how to stop her child from biting. She told her, "You need to show her what it feels like and bite her so she feels how much it hurts. Then she'll stop biting." This kind of advice ignores the most important part of any relationship: the relationship itself. Biting a child to teach a child not to bite, teaches a child that you're not safe. Similarly, if you talk badly about the friend who was talking bad about you, cheat on your spouse for cheating on you, rage at the family member who raged at you, or (fill in the blank), you create a domino effect of unending hurt not healing. Not to mention that biting the hand of a child no more stops that child from biting than cheating forces your partner to be faithful.
Trying to hurt someone who hurt you is called retaliation. Relationships have ended, jobs have been lost, lives have been ruined and wars have been started due to retaliation.  Trying to stop the hurt from hurting will not happen by causing more hurt. We have to heal our own hurt, not pass it on. Take the time to heal yourself—write, take walks, talk to close friends, get into therapy, and stop justifying your poor behavior because of the poor behavior of others. Revenge keeps you stuck. Don't spend your time thinking of payback—instead, discover what you need to push forward. Handle issues with integrity and strength. Don't pretend it didn't happen and don't attack back. Steady yourself, heal yourself, and love yourself enough to make hard decisions if necessary. If you need to leave a marriage, end a friendship, or change jobs. as a result of poor treatment, then do so—all the while continuing to move forward.
Challenge: When someone hurts you, focus your attention on recovery, not revenge. Decide what will help you heal and take one baby step at a time towards coming out on the other side stronger and happier than before. There is a way—you just have to allow yourself the space to discover it. Tune in, don't react.