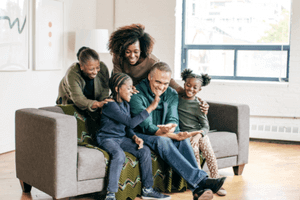 "Often, the best gifts don't cost a cent. Give the gift of love and grace this holiday season." ~Lisa Merlo-Booth
The holiday season is a mixed blessing for so many. Whether you celebrate Chanukah, Christmas, Kwanzaa, (fill-in-the-blank), or nothing at all, this season can be a source of celebration and joy or a difficult reminder of loss, struggle, or loneliness. Wherever you are on the continuum, though, may this holiday season be a little brighter than the last, more comforting than you had hoped, and more joyful than expected.
Hug your loved ones a little longer this season. Say, "I love you" a little sweeter and more often. Give grace more freely for your child's mistakes, spouse's forgetfulness, and parent's—well, your parent's overall annoyance, lol. The most significant gifts in life are often those that don't cost a dime—be generous with these.
Give the gift of love, kindness, and understanding this season—with loved ones, colleagues, acquaintances, and strangers alike. Be gentle. Show compassion. Know that so many hide their struggles rather than wear them on their sleeves; be someone's bright light in their dark times.
If you're going through a difficult time yourself this season, remember that this is a moment in time (MIT)—change is constant, and this struggle will change as well. And although some MIT's last longer than others, they are all MIT's. Reach out to loved ones to help you through. Give yourself the gift of grace and be gentle with yourself.
Challenge: Give the gift of grace this holiday season—to yourself and others. Bring love, kindness, and compassion to every interaction you possibly can, regardless of whether that interaction is with your lover, friend, child, or stranger on the street. There is always a gift in giving—so do so freely. Merry Christmas to those who celebrate it, and happy holiday season to all!