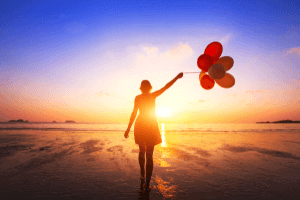 "People want to spend time with those who feel good to be around. Be a bright light, not a black cloud." ~Lisa Merlo-Booth
When clients were making bad choices in their lives and experiencing negative consequences, my mentor would often say, "If you go out in the rain without an umbrella, you're going to get wet. Don't blame me for the law of physics" I often think of this analogy when people are struggling in their marriages, friendships, or work. The simple truth about relationships is this: People love being around those who feel good to be around.
Creating healthy friendships, marriages, and even work environments is not rocket science; in fact, it's quite simple. The unspoken relationship law of physics is: You have to be pleasant to be around if you want others to want to be around you. While you don't have to be fun to be around all the time, it certainly has to feel good to be around you more times than not. Few people enjoy being around someone who is often grumpy, annoyed, irritated, angry, complaining, silent, etc. Relationships should feel good to your soul. It's not fun hanging out with someone who's constantly snapping at you, easily annoyed, cranky, or silent.
If you struggle to make and keeping healthy connections, take a hard look at how you're showing up. People grow tired of having to do the heavy lifting in relationships and eventually burn out if you're not showing up. Be kind, engaging, and light to be around. Great friendships and romantic relationships leave you feeling great about yourself and blessed to be in them. If yours don't, it's time to re-evaluate what's going wrong.
Challenge:
Take a humble look at how you interact with those around you and ask yourself if you would want to hang out with yourself. If the answer is no, then it's time for you to be more mindful of how you're showing up and take the necessary steps to change.
If others aren't showing up well, love yourself enough to ask them to work their side of the equation.
Don't settle for relationships that don't leave you feeling good in them.