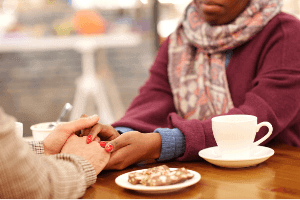 "Support is about being there for others in the way they want you to be, not in the way you think they should want you to be. Some things are not about you." ~Lisa Merlo-Booth
A key component in support is the ability to step outside of your story and into the other person's. Stepping outside yourself means being there for the other person—without judgment, arrogance, or selfishness. Selfishness shows up when you take over the conversation, spin it, or make someone else's issue somehow about your issue. Rather than being there for others, you want others to be there for you. Healthy support is realizing that there's a time for you to talk about what's going on for you and a time to listen to what's going on for others.
Being supportive means respecting others' thoughts, feelings, wants, and needs—even when they differ from your own. It's your job to be there for your partner when s/he needs you—in the way s/he needs you to be there (and vice versa). Loved ones decide what's upsetting to them and what they need, while you decide what bothers you and what you need. You don't get to decide what should or should not upset others, and others don't decide what should or should not bother you. Don't ever be confused about this foundational principle.
When it comes to creating extraordinary relationships, being supportive is essential. Few things feel better than knowing you have someone at home whose shoulder you can cry, lean, or rest on. Be that should for your loved ones and surround yourself with others who will be the same for you.
Challenge: Master the art of support. Listen, don't judge. Take turns sharing, don't take over. And be diligent about giving as much as you receive. Notice what happens when you show up for others and surround yourself with others who show up for you.