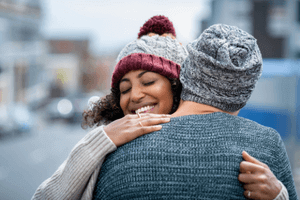 "Creating healthy relationships is not rocket science: be kind, accountable, and supportive to others while holding others accountable to be the same towards you." ~LMB
This New Year, raise the bar in your relationship. Creating great relationships is not as difficult as people make it out to be. They require a simple combination of give and take, love and respect, and mutual accountability. Each person has to give a little kindness, show a steady dose of love and respect and be adult enough to admit to—and repair– their mistakes.
You don't have to be perfect. You don't have to constantly be positive and nor do you have to constantly make your partner happy. You can't however, be mean or verbally abusive, treat your partner with contempt or indifference, or be defensive and unaccountable for your actions. Great relationships require that you show up and add to them rather than constantly take from or harm them.
In any relationship, it's vital that we remember to be kind and loving to those around us while also being kind and loving to ourselves. This balance requires that we have the courage to tell our truth, have our backs, and compassionately love our partner as we raise the bar on how they treat us. Anything less than mutual love, respect, and support will fall far short of a great relationship.
Challenge: Raise the bar in your relationship—on you and your partner. Become the partner you wish you were with.